WAIHEKE WINERIES & VINEYARDS
Waiheke is known for it's high quality red wines based on Cabernet Sauvignon, Merlot, Malbec and Cabernet Franc grape varieties. There are around 30 boutique wineries scattered about, many with tasting rooms, swanky restaurants and breathtaking views.
Sunshine, sea breezes and rolling hills define one of the world's most exclusive wine growing regions, producing wines with intense varietal flavour and the freshness and purity that comes from a pristine environment. There is nowhere in the world like Waiheke Island. Discover its beauty by discovering its wines.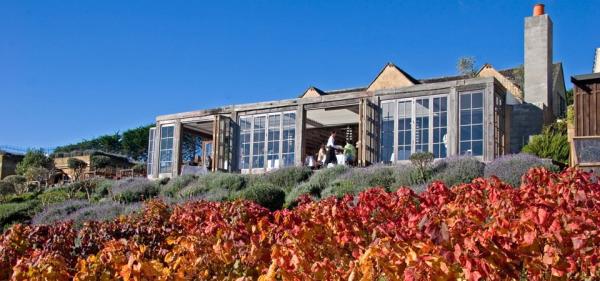 Waiheke's current reputation is a far cry from its first flirtation with the grape. In the 1950s, the Gradiska family produced what Kim Goldwater describes as a "fairly ferocious fortified brew" from hybrid vines at Ostend.
The Goldwaters were the first to introduce v.vinifera, putting in their first vines on Waiheke in 1977 and moving permanently to the island in 1983. They were followed by Stephen White at Stonyridge in 1982 and the Hamiltons at Peninsula Estate in 1984. Not long afterwards the Dunleavy family planted their Te Motu Vineyard, and Barry and Meg Fenton set up Fenton Estate.
Cabernet blends remained the flag bearers for Waiheke well into the 90s as the number of vineyards began to grow at a fast pace, leading to the formation of The Waiheke Winegrowers Association Inc. A surge in new planting was underway reflecting the desire of some winegrowers to expand their cellar door range and meet the changing mood away from Bordeaux-style reds.
The frequency and speed of the passenger ferry services from Auckland had brought about a major change in the Waiheke economy, boosting tourism and encouraging the development of vineyard cellar door operations and vineyard restaurants such as Mudbrick and Stonyridge.
Meanwhile, David Evans at Passage Rock Wines was harvesting the Syrah vines planted at his Te Matuku valley property and becoming a consistent Gold Medal and Trophy winner in national competitions. The suitability of the island's climate for the growing of this classic Rhone Valley variety was quickly recognized by other growers, some of whom selectively moved away from Cabernet Sauvignon as their mainstay. In 2003, The Hay Paddock established a single-variety Syrah vineyard in the Onetangi Valley, and others converted previous plantings to Syrah.
Today, winegrowing and wine tourism are the principal drivers of the island's economy.
Most of Waiheke's vineyards have a cellar door open all year around, however a few are only open in the summer months, therefore we recommend you call beforehand to confirm and/or book your private tasting.
Many vineyards also provide delicious food at their own cafe or restaurant, and the likes of Mudbrick and Cable Bay vineyards have become popular wedding venues. Te Whau, Poderi Crisci, Casita Miro and Te Motu vineyards are all winners of the Metro Best NZ Rural restaurant.